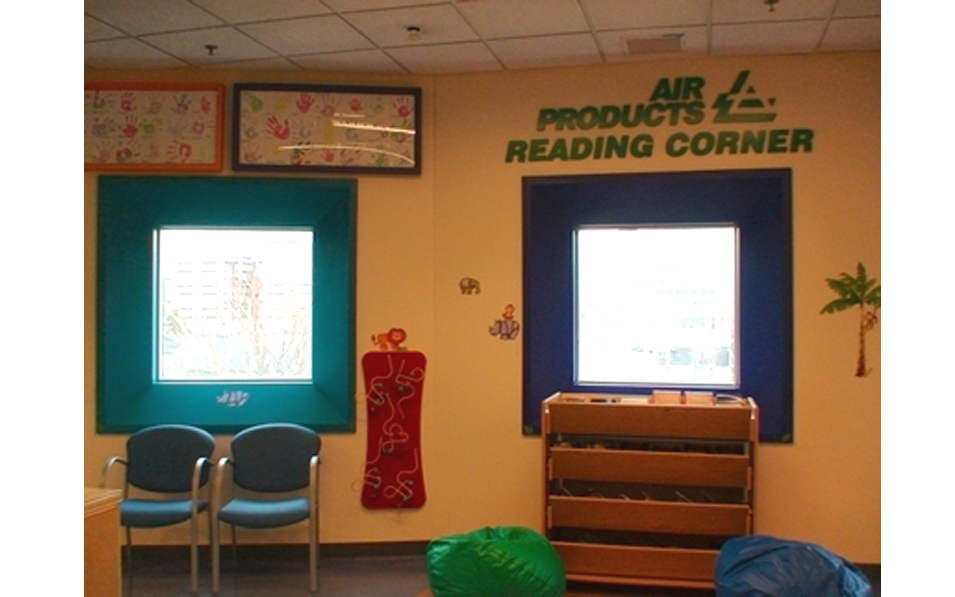 24 Feb

New Name and New Look for Sacred Heart Hospital's Pediatric Facility

Sacred Heart Hospital is launching a new name for its pediatric offices and tonight is celebrating the facility's renovations.

Thanks to a gift from Air Products and Chemicals in Lower Macungie Township and Air Products Foundation, Sacred Heart Pediatric Associates at the Sigal Center for Family Medicine in Allentown received a cosmetic facelift – and will be renamed Sacred Heart Kids Health Center. Tours will be given at 5 p.m. today, followed by a grand opening ceremony.

The renovations to the second-floor facility were funded from a portion of a gift from Air Products, which contributed to Sacred Heart's "Come Home to Your Heart" capital campaign.

Sacred Heart Kids Health Center is across Fourth Street from Sacred Heart Hospital. With the renovations came an expanded and freshly painted waiting room, along with newly painted hallways and exam rooms.

"Air Products is just a wonderful community partner," Jackie Jones, vice president of Sacred Heart Foundation, said this morning. "And for us, we are a community hospital, and the Sigal Center for us is just the hub of this community."

The pediatric facility once housed two waiting rooms, but with the renovations by Bracy Contracting Inc. of South Whitehall Township a portion of the glass partition wall was removed to connect the waiting rooms, making it more open.

"I think anytime you repaint space that people have been in for a while, it makes a difference," Matt Puchyr, project manager for Bracy, said this morning. "People are a little more excited because it's something new, and the staff is also happy getting a facelift."

Air Products long has had a supportive relationship with Sacred Heart Hospital, Jones said. Air Products employees have served on the Sacred Heart Hospital board and committees, as well as volunteered at community outreach programs at Sacred Heart, including a book drive to collect books for the pediatric center's waiting room. The books are part of the waiting room's Air Products Reading Corner.

"Our hope is that when patients come in, they can leave with a book," Jones said. "For these families now, it's really transformational. It elevates the clinic, and people feel good about coming into a freshly painted facility."

Another portion of Air Products' "Come Home to Your Heart" gift was used to fund part of the $2.2 million renovations to Sacred Heart Tower's fifth floor, now home to 18 private rooms for the recovery of surgical patients, which was unveiled in February.

Donated art adorns the walls of the pediatric facility as part of the renovations, including art by Hope & Healing Juried Art Show of Allentown; Allentown Central Catholic High School students; and Mikayla's Voice, a nonprofit organization dedicated to promoting inclusion for children with disabilities, which donated a mural painted with the wheels of a wheelchair signed by Lehigh Valley IronPigs baseball players.

Founded in 1912, Sacred Heart Hospital is a 215-bed Catholic medical center at Fourth and Chew streets in Allentown with a staff of more than 1,200. The hospital offers primary and pediatric practices throughout Lehigh and Northampton counties and a range of advanced medical services.